Reminder that it is important to complete the daily health check with your student every morning.  If your child does not pass the health check or is sick they need to stay home.  Thank-you for making sure that the Crystal View Community is staying safe and healthy.
Our Scholastic Virtual Book Fair has begun! The Fair runs from April 4th-15th and you can shop from home using the following link:
https://virtualbookfairs.scholastic.ca/pages/5174677
As with our last Fair, there are ZERO SHIPPING COSTS. All orders will be sent to the school. Keep your order confirmation numbers!
If you are interested in purchasing books for a classroom teacher, a WISH LIST will be available shortly via Google Docs. Please look for the email later this week.
MORE PRIZES! MORE PRIZES!
 WANT A CHANCE TO SEE THE VICTORIA ROYALS IN ACTION?
4 VOUCHERS TO WATCH THEM PLAY THE SPOKANE CHIEFS AT SAVE-ON-FOODS MEMORIAL ARENA
CHOOSE FRIDAY APRIL 15TH @ 7 PM OR SATURDAY APRIL 16TH @ 7 PM
 Simply tell Mrs. Spencer you'd like the tickets and tell me the name of 1 book at our Scholastic Virtual Book Fair.
Email me by Wednesday noon on April 6th: jspencer@sd62.bc.ca
I will enter you in a draw and one lucky family will win!
Grade 5's will be doing a bottle drive on Saturday, March 12th.  Times for drop off are:
10 – 4 at Crystal View
10 – 11  and 2-3 at the Canex in Belmont Park
All proceeds go to our graduating grade 5 year-end activities.  Please help us support our students as they finish their time here at Crystal View.
Parents can also pick up their COVID rapid tests on Saturday at Crystal View from 10 – 4 during the bottle drive.
There will also be a COVID test distribution time at John Stubbs by the Elementary Wing from 4:30-5:30 on Monday March 14th.
If you haven't returned coupon books the PAC really needs them back.  They will need to pay for any lost books and that will cut into the profits of this fundraiser.  Please send back payment or coupon book with your student.
Parents/guardians can pick up COVID Rapid Tests on Friday, March 4th  from 2:30 to 4:00 pm
Monday, March 7th from 7:30 to 9:00 am
Monday, March 7th from 2:30 to 4:00 pm
If you cannot make any of these times, please contact the office to arrange a time later in the week for pick up.    Please remember that each family will need to pick up their own kits and cannot pick up kits for other families.  Thanks everyone!
We are incredibly proud of the students who submitted posters and poems for the Legion Remembrance Day Contest.  They all showed the care and respect that is important when honouring the special day. We would like to congratulate the following winners.
Primary Colour Poster  – 2nd place Evelyn, 3rd place Brian
Primary Black and White Poster- 1st place Xyrene (also won 1st place for South Island and is putting judged at Provincials), 2nd place Ariyana, 3rd place Gabriel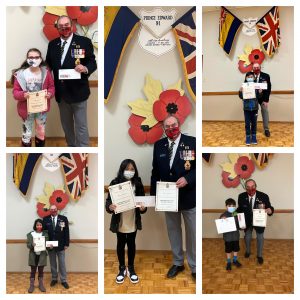 Registration for Kindergarten for the upcoming school year begins on Jan. 24th.   Please go to our website and follow the links.  If you have any questions, please feel free to contact the school.
Get ready for a fun-filled week!  We are exploring financial literacy throughout Literacy Week.  We are going to learn all about money!  Have fun with your children as you ask them about all they are learning throughout the week.  Stay tuned for more information.
Please note that due to the significant amount of snow last night schools will be closed for the day,  Stay safe out there and we will see you soon.  Enjoy the winter wonderland!