Registration for Kindergarten for the upcoming school year begins on Jan. 24th.   Please go to our website and follow the links.  If you have any questions, please feel free to contact the school.
Get ready for a fun-filled week!  We are exploring financial literacy throughout Literacy Week.  We are going to learn all about money!  Have fun with your children as you ask them about all they are learning throughout the week.  Stay tuned for more information.
Please note that due to the significant amount of snow last night schools will be closed for the day,  Stay safe out there and we will see you soon.  Enjoy the winter wonderland!
Have a wonderful Holiday Break with your friends and family.  We will see you back on January 4th.
12 lucky winners received Book Fair prizes, including a book, bookmark, pencil and eraser.
CONGRATULATIONS:
Paige in Div. 4, Anaya in Div. 12, Fantasia in Div. 6, Finn in Div. 8, Zachary in Div. 5, Oriana in Div. 7, Dillon in Div. 9, Finn in Div. 11, Nolan in Div. 1, Charlie in Div. 3, Paxton in Div. 10, Emily in Div. 2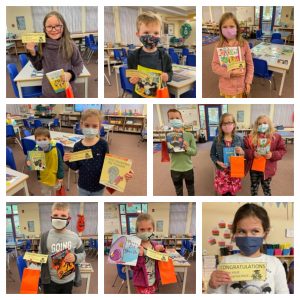 So many new and exciting things happening at Crystal View.  Check out our newly painted picnic tables, our beautiful garden, and our new nature playground.  Thank you to the amazing facilities crew, our always incredible PAC, our dedicated and creative educators and to our enthusiastic and caring students!  All of you, together, make CV a place of wonder!
Sharing, learning and caring……… such a beautiful moment.  We are all glad to be able to have our big buddies again.