We have a full calendar over the next few weeks.  This week started with a bang with the School Intermediate Track and Field Practice and perfect weather.  There is a PAC meeting on Wednesday night- looking forward to seeing you there!  On May 17th, we will have Class Photos and a visit to the Symphony for our older students.  The Book Fair runs from May 22nd to 25th with the Spring Concert on May 23rd (1:00-2:00).  To add to the excitement, we will also be drawing the winning tickets for the amazing PAC Raffle with a first prize of a trip for two anywhere West Jet flies.  Wow!  It is going to be fantastic.
We are having our second Book Fair at the school from May 22nd to May 25th.  We scheduled it for the same time as our Spring Concert which will take place on May 23rd.  All families are welcome to shop during the hours of the Fair. We accept credit cards, cash and debit. See you there!
Class schedule:
Please remember to bring your bottles by the school on Saturday, April 7th.  The Grade 5s will be fundraising for their end of year trip.  We will also be collecting in the neighbourhood and Belmont Park.
Looking forward to seeing everyone on Tuesday, April 3rd.  Can't wait to hear about all the Easter adventures.
Yesterday, many of our classes celebrated 100 days of school.  There were all kinds of fun activities happening and lots of counting!  Some students brought 100 items to share and count.   Look at this creative way to show 100.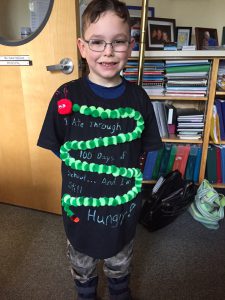 Please save your bottles for our Grade 5 Bottle Drive.  The Grade 5 students will be hosting a bottle drive to raise funds for their end of the year trip to Camp Thunderbird.   We will have a drop off location at the school and we will also be driving around the neighbourhood to collect from homes. We will send a reminder closer to the date.
On February 28th we will be acknowledging the importance of being KIND to each other and to ourselves.  All during the month of February the students and staff have been noticing Random Acts of Kindness by writing down the name of the person who was kind, the nature of the kindness and then putting the information in our Kindness Box in the office.  Each day we draw two slips of paper and read about the person and the kindness over the announcements.  It has been a wonderful way to celebrate all the kindness shown by our staff and students.  On February 28th we will continue to focus on acts of kindness by joining our province in wearing PINK for Kindness Day.