Registration for grades 1 through 12 is ongoing throughout the school year online. Kindergarten registration has specific dates and requirements (see below).
For more information and for a full list of schools, please visit the Schools page.
Registration Checklist – click and print!
Documentation requirements
We have made updates to our registration procedures and to the type and amount of documents required. Please take a look at our Registration Guide to make sure you have the required documents ready to upload during registration.
How to register:
1. Read the Registration Guide to make sure you have the required documents ready to upload during registration. We will accept original documents only – no exceptions. Students will not be officially registered until all documentation has been uploaded.
2. Find your catchment school using the School Locator Tool.
3. Online at registration.sd62.bc.ca.
Kindergarten
All SD62 elementary schools offer full day kindergarten for our youngest learners. To register, children must turn five years of age by December 31 in the same calendar year that they begin school. Registration for kindergarten is a first-come, first-served basis and normally takes place in January.
Please visit the following pages for more information:
*Note: Parents MUST attend a Nature K info session prior to registration. Please see Nature Kindergarten page for dates.
Grades 1 – 12
New to our school district? If your child is in Grades 1-12, registration can be done online throughout the year.
Already enrolled in SD62? If you would like to consider a change of schools for your child, within our district, carefully read the School Change Request page and then fill out the form. There is no need to re-register your child as they transition grades.
*We recommend contacting your neighbourhood school prior to registering to find out about available space and resources.
French Immersion
Early French Immersion
Students who opt for Early Immersion usually enter the program in Kindergarten and continue their French studies through to grade twelve. In Grade 12, they receive a 'Double Dogwood' (a bilingual graduation certificate). Students may also begin the program in Grade 1. Please visit the French Immersion – Kindergarten page for complete details regarding registration.
Late French Immersion
Registration for 2021/2022: January 25-29
Students who choose late immersion will enter the French program in Grade 6 at École John Stubbs Memorial School. In Grade 8, late immersion students will merge with the students who enrolled in early immersion.
Parents can register online or in-person at their neighbourhood school. If registering online, please select Late French Immersion as your preference. Parents who wish to register in person must do so at École John Stubbs Memorial School.
As this is a popular program, parents are encouraged to register as close as possible to the opening of registration.
Visit the French Immersion page to see a list of SD62 schools that offer French Immersion as well as more information about French in SD62.
Thank You!
Our Scholastic Virtual Book Fair was a success! Thank you to all families, teachers, and students who participated, supporting our school while enhancing home libraries. You purchased 214 books, which benefits our young readers and our school and classroom libraries.  
We can't wait to hear all about the new stories you have added to your home libraries! Thank you for participating in our Scholastic Virtual Book Fair. 
Happy reading,
Mrs. Spencer
Teacher-Librarian
Crystal View's Scholastic Virtual Book Fair starts next week! It will run from November 2nd-13th.
Shop from home
Give your child access to the books he or she loves to read
Support our classrooms and school library
Orders will be shipped directly to your homes.
Free shipping when you spend $35 or more
Shop on our Virtual Family Night, Wednesday, November 4th and receive free shipping
You can visit our school's Virtual Book Fair  NOW to watch the trailers and explore the books.
Happy reading!
Mrs. Spencer
Teacher Librarian
Thank you to everyone who donated and volunteered for our PAC sponsored Bottle Drive.  Although it was a rainy day, we enjoyed the opportunity to get work together to support our amazing school and raise $1887.00.  Wowza!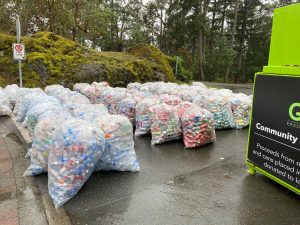 Our new school year is well under way and we are excited to begin another great adventure together.  We know that there has been a lot of communication and many updates over the last few weeks and we apologize for the seemingly endless number of emails.  I promise it will slow down soon as we get settled in the new groove.  We will work to keep the website updated and current, and will provide an email update only once a week.  Thank you!