Today, the Royal Canadian Legion acknowledged Jackson and Eddie for their excellent work in creating Remembrance Day Posters.   We were so proud of the efforts of our students.  Below is a picture of Jackson receiving his award.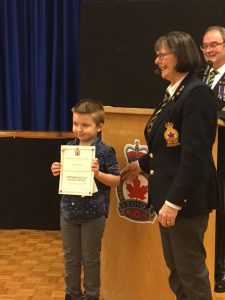 Look at our budding scientists checking documenting the spring growth.  Thank you to Ms. Laughton and Mrs. Evans' class for planting the daffodils and caring for them.  They are going to be a beautiful addition to our school.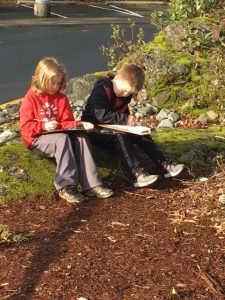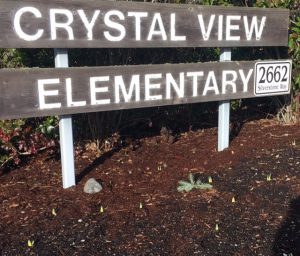 We had a very successful bottle drive on Saturday.  The weather was beautiful, we had many volunteers and there were bottles galore.  Our total was approximately $1900.00 – wow!  Thank you so much to the people who donated, drove, organized and sorted for us.  It was a great day.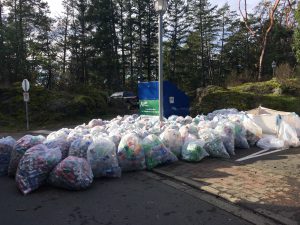 We would like to wish you all the merriest of seasons!  Take the opportunity to turn off the screens, slow down, get some rest, laugh and play with your friends and family.  Thank you for joining us for our Christmas Concerts.  It was a magical way to start the season.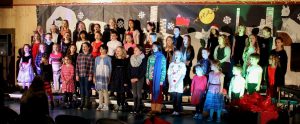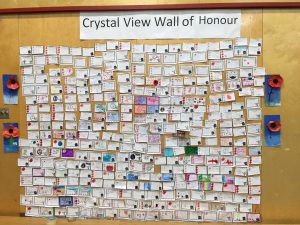 Thank you to our students and staff for creating this respectful display in honour of Remembrance Day.  Our assembly takes place today at 10:45.
Thank you so much to our PAC for purchasing our new shed.  Thank you as well to the talented students of Royal Bay Secondary who built it and then delivered it  today.  We will use it for all of our sand toys, outdoor equipment and our upcoming "Loose Parts" building supplies.  What a great start to November.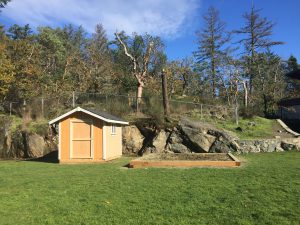 The leaves are changing and the air is starting to feel crisp and a wee bit chilly.  Fall is definitely here and we have many events to look forward to this month.  We have Parent Teacher Interviews on Oct. 17th.  The Book Fair arrives on October 15th and stays for a week, so you have plenty of time to shop.   Our PAC sponsored Bottle Drive is on October 13th and our PAC meeting is Oct. 10th at 6:30.  We also have our Halloween Dance and festivities to look forward to at the end of the month.
Please remember that our Reunification Drill takes place on October 22nd at 1:00.  See you there!
September 4th will be our first day back from the summer.   Although it is often hard to let go of the holidays, it is also exciting to start a new year.    We are very much looking forward to seeing familiar faces and also getting to know some new families.   September 4th is a half day- students will be released at 11:38.  We will start full days on September 5th.  New Kindergarten students do not start until September 10th.  If you are a new Kindie and are unsure of your start times (gradual entry) please contact the office.
See you soon!  Enjoy the next gorgeous week of sunshine.
The entire team at Crystal View would like to thank our parents, students and community for their support and enthusiasm during this school year.  I would like to send a special thank you for the warm welcome everyone has extended to me  during my first year here as principal.  It has been a wonderful experience. Enjoy the summer with your friends and families and we will see you back here in September!
Hello everyone,
Our Beach Day was a total hit!  The children were incredibly well behaved and the weather was beautiful. Thank you to all of our families for coming out and enjoying the day with us.  As well, a extra special thank you to our staff for looking after our students with such care and great sense of humour.
Fun Day on Friday afternoon.  Stay tuned for some pictures.
We have a full calendar over the next few weeks.  This week started with a bang with the School Intermediate Track and Field Practice and perfect weather.  There is a PAC meeting on Wednesday night- looking forward to seeing you there!  On May 17th, we will have Class Photos and a visit to the Symphony for our older students.  The Book Fair runs from May 22nd to 25th with the Spring Concert on May 23rd (1:00-2:00).  To add to the excitement, we will also be drawing the winning tickets for the amazing PAC Raffle with a first prize of a trip for two anywhere West Jet flies.  Wow!  It is going to be fantastic.