We are looking forward to seeing some familiar faces and other new faces.  We know this is going to be a fabulous year at Crystal View and we are ready and excited to get started.  The first day, September 3rd, runs from 8:45 to 11:38.  Full days begin on September 4th.  See you soon!
Loving this image.  Hands down (and dirty-lol) the best way to end of the year, playing in the dirt, smiling all the way.  Hope this is how the summer goes for all of you- heading into a new adventure with a twinkle of mischief in your eyes!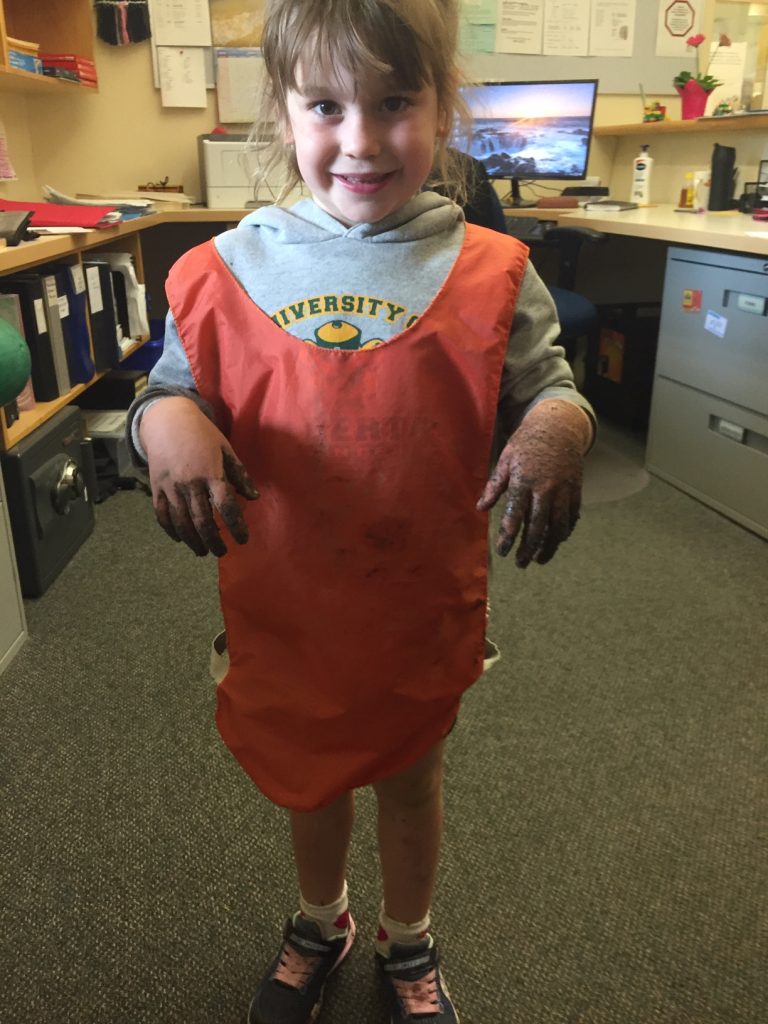 As many of you have seen, we are in the midst of a bit of construction.  What could it be?  The students have been kept guessing and are looking forward to the reveal in the fall.  A pool? A moat? A new play area? A garden?  Stay tuned- it is going to be FABULOUS!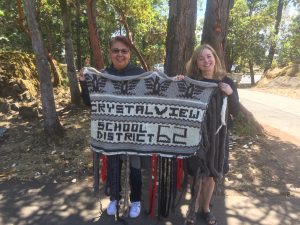 Thank you to Sherry Thomas and our older students for knitting this beautiful wall hanging for our school.  It should be up for display soon so everyone can admire the craftmanship.   Sherry, you are a role model and teacher to us all.  Thank you for sharing your talents.
WE HAD SO MUCH FUN!!!!  Thank you to our amazing PAC for supporting this residency.  Thank you to Artstarts for the Artist in Classroom Grant which also supported this experience.  To Luv2Groove and especially to Ms. Christine- THANK YOU for making this a memory the children, and our staff, will never forget and for making dance come to life in their world.  Thank you as well to Ms. Fiorin for helping to write the grant application, for organizing our schedules and for being our go to person during the entire residency.
Bus Registration Opens April 12
School bus registration for the 2019/20 school year opens at 9 a.m. on Friday, April 12!
(This is for school bussing starting in September)
Many of our buses and routes fill quickly. Please register close to opening so that you get a spot!
As in previous years, we will be using the School Cash Online system for school bus registration. Registration is of course, free for families.
Please note:
Registration will open on time
Parents will not be able to select bus routes.
Experienced Transportation staff will place your child(ren) on the best routes as per your home address and school.
If you register by June 1, you will be notified as to which bus routes your child(ren) will be on before the end of the school year.
Bus passes will be handed out to middle and secondary students prior to or during the first week of school in September
Bus passes only apply to middle and secondary school students. Attendance will be taken in the elementary grades.
Drivers will begin enforcing passes during the first week of school in September.
Questions? Please check out some of the Frequently Asked Questions near the bottom of the Transportation page or contact the Transportation Department via email or call (250) 474-9845. Due to volume of inquiries, please allow 3-4 business days to receive a response.