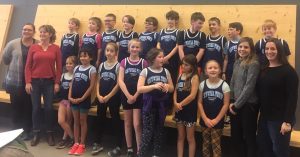 These are our amazing students and staff at the Handball Jamboree showing everyone how incredible CV is by demonstrating exceptional team spirit, sportsmanship and skill.  We are so proud of everyone of you!
The Santa Bus came and visited our school today.  All the students had the chance to go through the bus and meet all the characters.  We also were able to contribute all our food donations to the Fill the Bus campaign.  It was a festive event!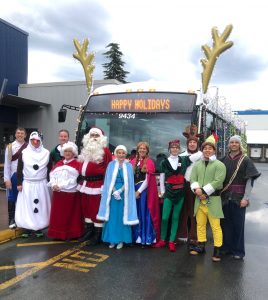 Registration for Kindergarten opens on January 27th at 8:00 am.
Please read the information on the District Website for documentation that is required to complete the Kindergarten Registration in District #62.
Thank you.
Thank you to all of you who dropped off donations and helped to sort and pick up bottles.  The weather held with not too much rain and many of our neighbours stopped by with bottles and smiles.  It was so uplifting to see all the students come out with their parents and work side by side with us to get the job done.  On top of the opportunity to spend time together as a community, the day culminated with a big pay off.  The final total fundraised was $1731.00!   Our school is incredibly lucky to have such committed PAC members who make these kinds of events happen.  Thank you PAC!
We had our Great Shake Out Earthquake Drill today at 10:17.   We were very lucky to have 13 adults come from the City of Langford Emergency Support Services Program to guide us through the steps of the drill.   Each classroom had a visit from one of the members who discussed safety procedures, walked them through a practice and then stayed with them during the actual drill.  The students listened carefully, asked great questions, then safely and respectfully completed the drill.
Our students were superstars at the two District Cross Country Runs!  They ran, smiled, cheered and displayed excellent sportsmanship.  We were incredibly proud.  Thank you to the teachers and EAs who helped during our training sessions and came out to support the students at the runs.  We are definitely a community full of spirit.  Here are a few shots of some of our superstars- we would like to have included everyone but that would have been a very long list.  Enjoy!
Look at what is happening at Crystal View!  Thank you to Todd and Rob, our talented district painters, for coming out on this gorgeous fall day to create our sensory circuit.  It is going to be an incredible addition to our outdoor learning space.