Hello everyone,
Please note that all of our Good News, Good News Broadcasts and Activity Infomercials can be found on this webpage under the Program's link dropdown menu.  We will leave them there so you can enjoy them over the summer on a rainy day.  Thank you very much for a wonderful school year.  Yes, there were many unexpected challenges but there were also many extraordinary surprises.  We look forward to all that we will accomplish together as a learning community in the coming school year.  We will wait until we get direction from  Dr. Bonnie Henry about the processes and organization that are required to ensure safety for all in the fall and then we will provide everyone with the information about next steps.  Stay tuned and we will keep in touch!  Have a summer filled with adventure, laughter, rest and play- stay safe and look after one another.  We will see you soon.
Karen
We are so proud of you, Wakana!
Wakana has represented our school beautifully.  She won a $25 itunes gift card from Agriculture BC for taking this photo of our tulips which were planted to commemorate the 75th anniversary of the liberation of the Netherlands.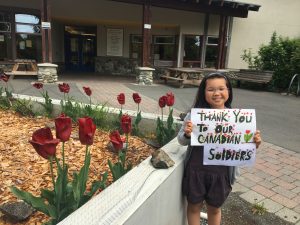 Happy Friday.  The video is in two parts this week, mostly because the entire message was too big to upload!  I am working on improving the video quality and resolution but as with many things these days, I too am in a learning phase…..
Crystal View Family Letter with Resources
Many of you have reached out for information and resources about how to talk to your children about  COVID-19.  Please go to the link above to view the letter from our amazing counsellors outlining excellent resources and guidance.
Wishing all of you a safe and happy holiday weekend.   We look forward to continuing to connect with you next week.  We thought we would leave you with a bit of Egg Hunting Fun!
Easter Egg Hunt Collage