Check out the creativity of our students.  Love looking outside the office and see these little people looking back!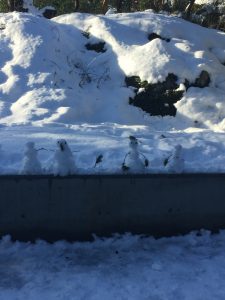 Today is a SNOW Day.  Schools will be closed, January 15th.  Enjoy this beautiful morning!  Stay home, stay warm, stay safe and have fun.
Dear Parents/Guardians,
With the possibility of snow over the coming days, please take a look at our weather procedures. Schools remain open if at all possible, including during snowfalls. It is always up to you to decide whether or not to send your child to school during inclement weather.
Weather-Related Closures & Cancellations
For instant updates and information posts, please follow us on social media:
We will also post to the SD62 Website: http://www.sd62.bc.ca/
Thanks for taking the time to look through this,
SD62 Communications Team
Thank you to all of you who stopped by with bottles on Saturday.  It was amazing to see so many truckloads, trailer loads and carloads full of bottles being donated from people throughout our community.  We also had a visit from the Fire Department to show their support for our mission to help those effected by wildfires in Australia.  The morning was a complete success with great weather and many volunteers.  We raised $ 3030.00- half of which is going to be donated to the Red Cross!
Together we can make a difference.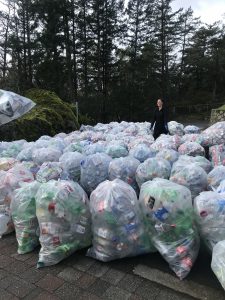 Our students are prepared to play in and enjoy the beauty of the wild West Coast!  Coats and umbrellas ready for outdoor fun, they find the wettest spot on the site under the rain spout and jump right in.  Look at their smiling faces!  I snapped the picture at recess as they laughed and played.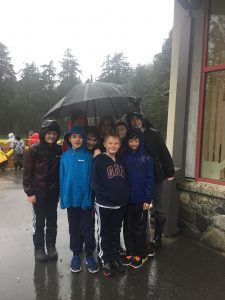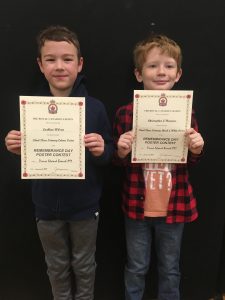 Congratulations to Lochlan and Christopher (pictured above at the award ceremony), as well as Kira and Wakana !  These four students were awarded prizes from the Royal Canadian Legion for their Remembrance Day Poems and Posters.   Mrs. Laughton attended the ceremony on Saturday, January 4th and was able to snap the picture above after the students received their certificates.  What a great way to start a new year.
Happy Holidays to all of you.  We thought you might like to take a little look inside our last day before the break as we enjoyed a delicious pancake breakfast make by our lovely parents.  Thank you to Tiffany for putting this movie together for us.  It was a beautiful gesture!  Not all the children can be seen but it is a delightful compilation of smiles and holiday magic.
Take care everyone and we will see you in the New Year.