Ready, Set, Learn, a program to help your preschooler get ready for school,  is coming to the Westshore Town Centre (10:30 to 2:30) and the Sooke Community Hall (10;00 to 2:00) on January 24th.
We will also have a session at our school in the evening on February 19th.
Stay tuned for more information.
Get out all the special hair products and go wild!  Our Peer Helpers are sponsoring Crazy Hair Day on November 29th.  How crazy can you get?  Looking forward to seeing all the wackiness.
Safe Arrival is a PAC run initiative, organized by our wonderful volunteers.  Unfortunately, PAC is no longer able to maintain this program due to challenges with getting enough volunteers.   From now on, if your child is going to be absent please call the school line at 250 478 0576 instead of the Safe Arrival line.
Thank you so much to the amazing people who have volunteered their time for years running this program.
DRAWING AND CREATING TOGETHER ON OUR PICNIC TABLES AT LUNCH
listening to the raindrops all around……..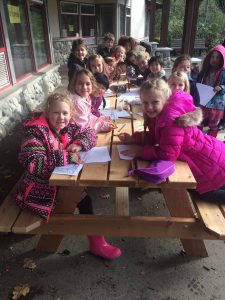 There will be a district-wide early dismissal day on November 23rd.  This day is set aside for parent teacher interviews.   However, at Crystal View we did our interviews early in October so we could meet all of our parents sooner in the year. Our teachers didn't have an early dismissal break that day but worked straight through to 7:30.  A long day but it was wonderful to make all those connections!  Even though we did the interviews early please remember there will still be an early dismissal on Nov. 23rd at 11:36.
We will be acknowledging this important day on November 10th.  Please feel free to join us as we remember those who have given so much to ensure that we have the opportunity to live in freedom and safety.   November 13th school will not be session.
Tuesday, November 28 – Girls Jamboree @ Royal Bay (3:15 –  5:30)
Thursday, November 30 – Boys Jamboree @ Royal Bay (3:15 – 5:30)
Dear parents,
Thank you for joining us for Parent Teacher Interviews.  It was wonderful to meet all of you.  Your children were so happy to share their learning with you and celebrate their growth.
The Book Fair has been a huge success.  Thank you for your support.  We will let you know how much was raised for our library next week.
Next week is our PAC sponsored Halloween Dance.  This is a fun family event and we look forward to seeing everyone out in their ghoulish splendor!
Take care,
Karen
Dear Parents:
Monday, October 23rd is Drop Everything and Read Day (DEAR). We will be reading as a whole school at 12:45. Students are invited to bring their favourite books to school, find a cozy spot and read! Students can bring a blanket, a stuffie, or even wear their jammies! Our generous PAC will be providing popcorn for each classroom as a special treat. Let's get reading!
Sincerely,
Mrs. Spencer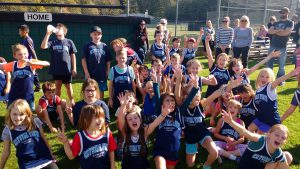 Congratulations to all the students who participated in the District Cross Country Runs.  Everyone enjoyed themselves as they ran in the sunshine with their friends.  Thank you to Ms. Booth, Ms. Mackenzie, Ms. Bennett, Ms. Morrison and Mr. Dodds for your coaching and your support during the runs.
You will soon be receiving information to book your parent teacher interview.  All bookings will be done on-line and the booking system will open on October 10th at 8:00 am.  Interviews will take place on October 18th from 2:50 until 7:15.  Looking forward to seeing you all there!